COLORS OF INDIA
Intense colors, enchanting details, and rich traditions are a few of the things you're likely to find in a South Asian wedding. While my days are spent surrounded by beautiful art, design and so many magical events, I will never tire of the sumptuous scenes from these luxurious affairs. As a designer, I am eternally intrigued by this culture and can't help but immerse myself in the artistry found in everything from saris and tapestries to jewels and much more.
Making a striking statement this week is our Ceci Bride Christina with her Jaipur wedding. Check out her groom entering on horseback! From there, her celebration overflows with all the details you'd expect from an Indian wedding – pomp and revelry surrounded by family and friends donning the most elaborate and fabulous attire you could ever dream up. Even the laser-cut invitations we designed, while soft and romantic, look bold when combined with a damask, henna-inspired sleeve and coordinating blush letterpress invitation back.
One of the most important and popular pre-wedding rituals in India is the Mehndi party. As weddings there are often deeply traditional, the bride is decorated using an age-old, intricate body art called henna. Zara Henna, who lent their talent to create my cover look, shares the significance and style details of this ancient beautification process. Did you know that because it has a cooling effect on the skin it's also used to calm the bride amidst all the pre-nuptial chaos?
Now if you're still craving more fabulous inspiration, be sure to take a peek at Harper's Bazaar Bride India in our Behind the Scenes. Celebrating one year in print, this magazine has eye candy galore, with each page more vibrant than the last. It's sure to beautify your world – it did just that to ours as this week's images were modeled after their stunning cover.
Here's to a life filled with color, culture and celebration!

P.S. Thank you to Andrew Adams for sharing his vibrant photos of Christina & Benjamin's wedding.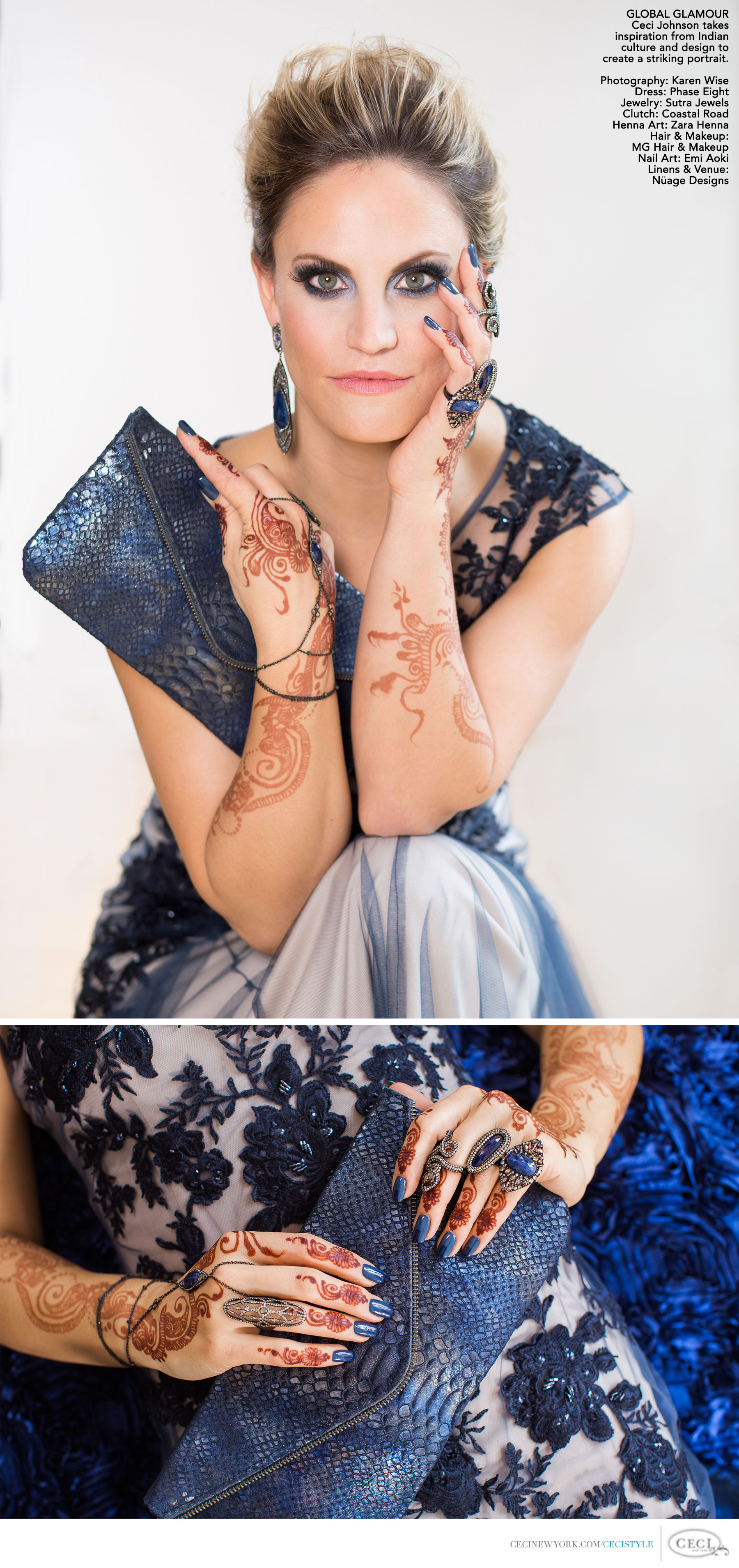 Photography by Karen Wise. View the Creative Team in Behind the Scenes.
THE CREATIVE TEAM: Photography: Karen Wise Dress: Phase Eight at Bloomingdale's Jewelry: Sutra Jewels Clutch: Coastal Road Henna Art: Zara Henna Hair & Makeup: MG Hair & Makeup Nail Art: Emi Aoki Linens & Venue: Nüage Designs