PURPLE REIGN
Expectations are a big deal in my line of business. Not only do I set a high standard for my company and myself, but my clients come to Ceci New York expecting the very best. Then, if I do my job well, the guests who receive their invitations look forward to a top-notch experience and get excited for the upcoming celebration. These expectations, combined with the ideas and inspiration my clients bring, drive me to create and innovate every day.
When client Lucas Somoza (or "Mr. Impeccable" as we like to call him) asked me to design for his wedding at the iconic Four Seasons George V in Paris, I knew the bar was set high. But I couldn't wait to leap over it. Lucky for you, you'll get to see the fruits of our labor – down to every laser-cut detail – in this spectacular show of purple-and-gold beauty! I'm even inviting you to my studio in NYC so you can sit in on one of our design meetings, captured by photographer Sofia Negron.
Fittingly, our purple obsession continues in this third week of celebrating Pantone's Color of the Year, Radiant Orchid. Lucas' color palette includes a rich fuchsia that, paired with shiny gold, black and red, had magnificent results! We can't get enough of the regal hue, which you'll find woven throughout his wedding brand, including save-the-dates, invitations, menus and much more. And as an added Radiant Orchid bonus, I've invited L'Olivier Floral Atelier to give you tips for picking the perfect orchid as a gift for yourself or a friend, or for a special event. I hope you enjoy all the luxurious purple eye candy that is this issue – and that it not only meets, but exceeds, your expectations!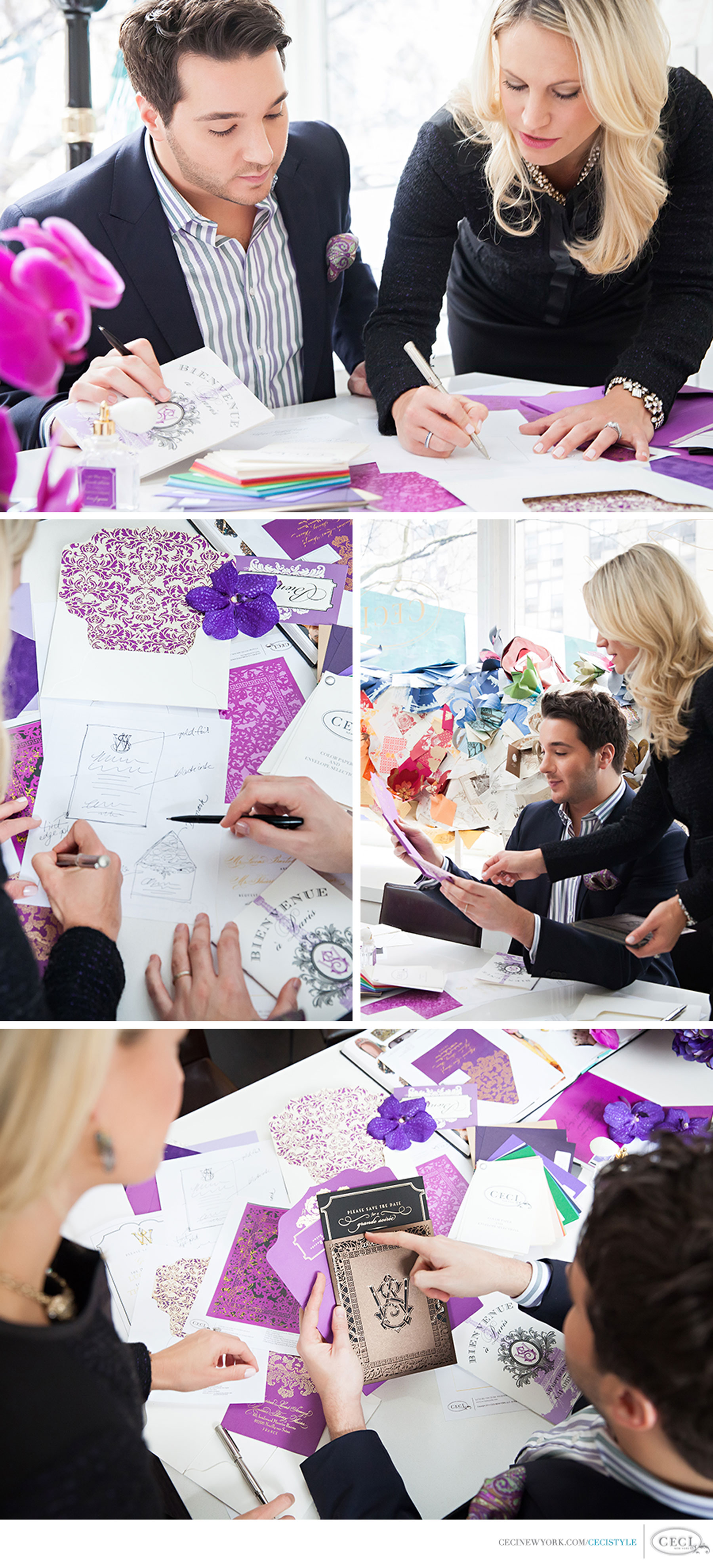 Photography by Sofia Negron Photography.
THE CREATIVE TEAM: Photography: Sofia Negron Photography ON CECI JOHNSON: Dress and Jacket: Elie Tahari Bracelet: J. Crew Necklace: Max & Chloe Boots: Cole Haan ON LUCAS SOMOZA: Jacket: Versace Shirt, Pocket Square, Belt and Shoes: Etro Pants: Gucci FLORAL ARRANGEMENTS: L'Olivier Floral Atelier