ON YOUR MARK, GET SET, PARTY!
As someone who loves designing for others, I recently had the distinct pleasure of creating something for my own family. In this case, I got knee-deep into race car drivers while doing research for my son Mason's race car-themed birthday party. The project put me in a nostalgic mood because it had me thinking about my father – not only was he really into car culture, but the race cars that Mason adores and plays with came from my dad. The whole time I felt like Dad was smiling down on me from heaven, and this became the point of inspiration that helped Mason's party come together.
Something else that brings joy to my life? Being in this industry and having the opportunity to collaborate with creative people like photographer Kristi Drago-Price, Amy Kolz from Village CakeCraft and the cookie artists at Eleni's New York, who took Mason's race car theme to the next level. I'm so thankful they found inspiration in my watercolors, applied their own talents to it, and brought the race cars I drew to life. And after all the hard work we put into the party, it was rewarding to see the kids overjoyed by such a simple concept (Mason was so excited leading up to the party, he wanted the party to happen NOW!). For any of you thinking that such an event seems hard to pull off, I'm sharing all my hard-won advice in this week's Ceci Diaries. One of my favorites? Timed schedules are for school, not for kids' parties. Now, come join the celebration!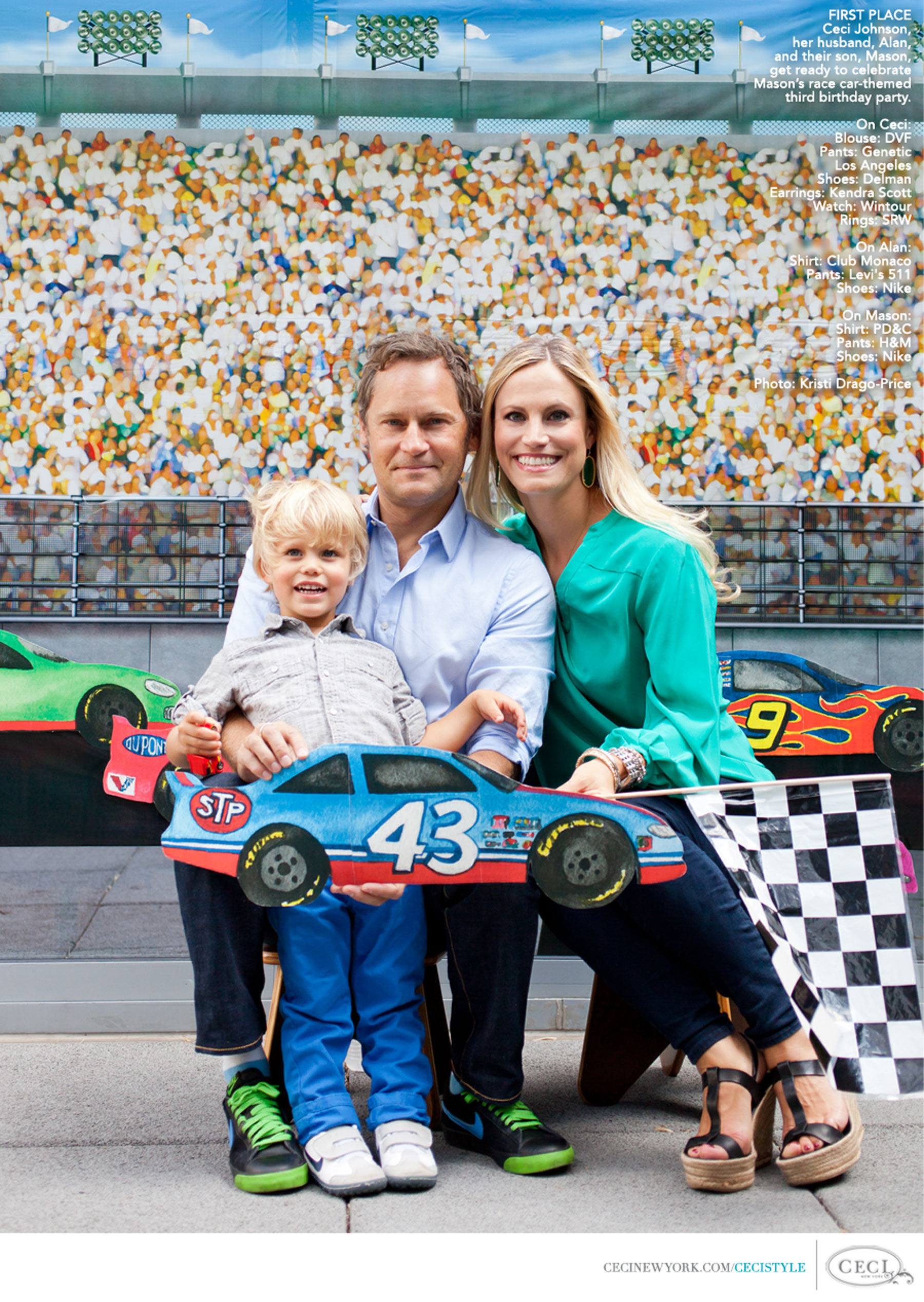 Photography by Kristi Drago-Price Photography
THE CREATIVE TEAM: Photography: Kristi Drago-Price Photography On Ceci: Blouse: DVF Pants: Genetic Los Angeles Shoes: Delman Earrings: Kendra Scott Watch: Wintour Rings: SRW On Alan: Shirt: Club Monaco Pants: Levi's 511 Shoes: Nike On Mason: Shirt: PD&C Pants: H&M Shoes: Nike