HAPPY BIRTHDAY, CECI!
A few years ago I created a new tradition I call #PamperMeBirthday. It's all about taking time for yourself on your birthday – no work, no calls, no kids – and treating yourself to a special ME day. Well, since expanding my family and welcoming baby Elle into the world, there's been a common thread in my life: trying to juggle it all (or, on most days, just some of it). With my birthday coming up this Friday there just isn't much time for any of the balls to drop, let alone to visit my favorite spots around the city for birthday pampering. I know all of you new mommas reading this understand, right?
As I'm somewhat confined to around-the-clock feedings and diaper changes at the moment, I decided to switch it up and simplify things by having birthday indulgences brought to me. We've rounded up picks for glamour, beauty, drinks and more to come straight to my door! Check out all of our at-home services and products in this issue and be sure to follow me on Instagram (@cecinewyork) so you can see all the surprises each company sent for my birthday. I can't wait to experience what's in store!
Continuing with birthday rituals, my sweet friend and Food Network star Ron Ben-Israel created a sugar masterpiece for my birthday cake this year. Inspired by my watercolor painting, he came up with the over-the-top confection you see below (captured by Harley Hall). I'm dying! I mean, how amazing is this birthday cake? Ron really nailed the gold foil detailing on top of the pastel artwork, and the sugar flowers are beyond beautiful. I'm always in awe of how my designs evolve into these grand treats for our clients. And I must admit it was so fun to have a custom cake made just for me for a change. Thank you, Ron!
Whether you're on-the-go or laying low, there's always a way to celebrate you on your birthday (or any day!). Enjoy!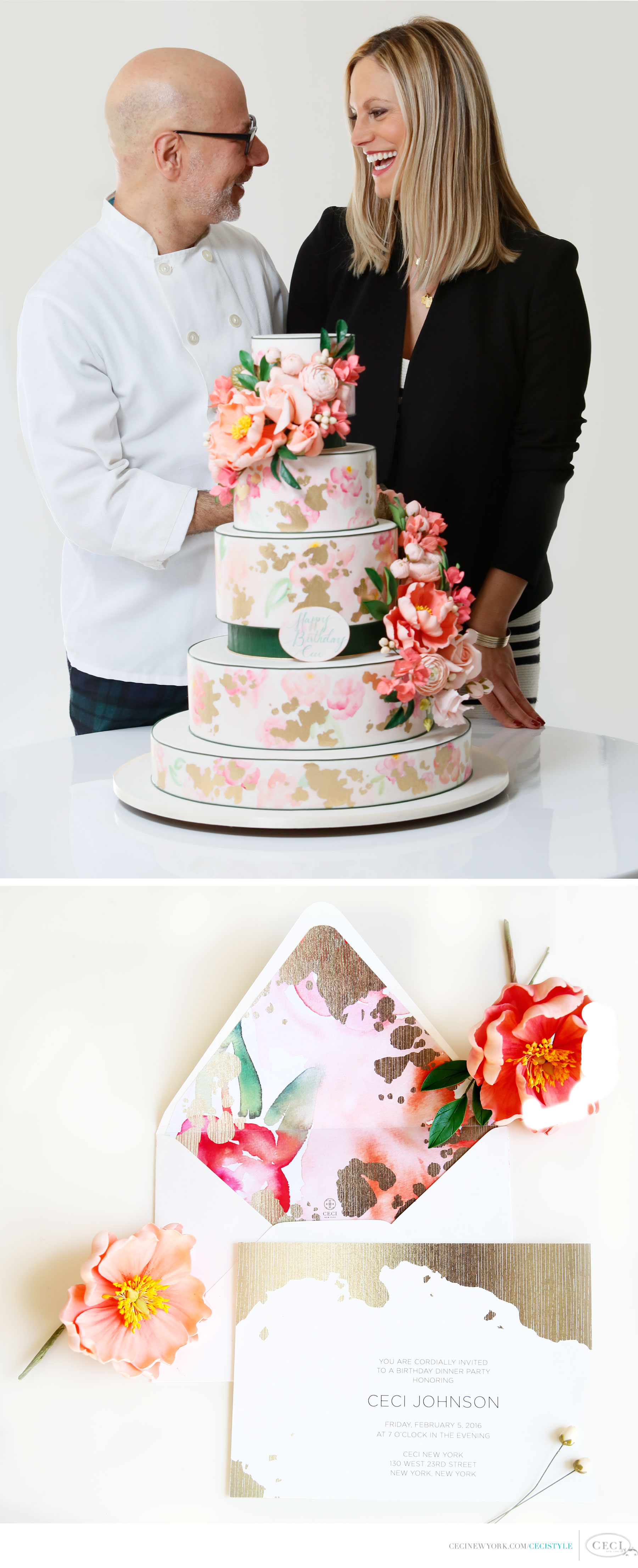 Photography by Harley Hall Photography
THE CREATIVE TEAM: Photography: Harley Hall Photography Blazer and Dress: Alice + Olivia Bracelets and Necklace: Kristin Hayes Jewelry Monogram Necklace: Tiny Tags