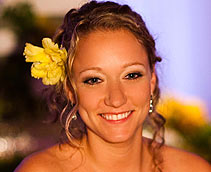 JULIE K.
Remember that you started this process because you and your fiance were crazy in love. So keep it personal, celebrate your love, and don't lose sight of the fact that the love between the two of you is the most precious element of the wedding.
Because we love music, we selected the Marcia Mitchell Band, a concert-style performance band. But the biggest moment of the reception was when the bandleader (Marcia) announced that the groom wanted to surprise his bride. Stephen then sang "I've Got You Under My Skin" to me! Alone. Amazing. Showstopper!
What It's Like to Be a Ceci Bride:
Being a Ceci bride was an extraordinary opportunity to let our personalities shine through in the invitations and give guests a hint of what was to come. In our case, everything was going to be a more modern, organic take on a formal hotel wedding. We are casual, love music, and were having the ceremony itself on the beach. There were a lot of elements to bring together and a lot of information to give – which Ceci did, seamlessly. The nostalgic postcard for the save-the-date set the fun, less formal tone and generated a tremendous level of excitement. We carried the vintage note through with an old-fashioned photo booth at the wedding. The same type of flowers on the invite showed up in my hair at the reception.
The bellyband on the invitation said "All You Need is Love." We love the Beatles and that song. Our new twist on the old? We had a four-piece string quartet from the Naples Symphony Orchestra (the Anton Sikuta String Quartet) playing Beatles songs as guests were seated for the ceremony (listed as "Beatles on the Beach" in the program). And yes, the recessional was "All You Need is Love."
As for the invitation suite, Ceci just "got it." While we wanted beautiful quality paper and the unmistakable look and feel of letterpress, we didn't want "standard." We love how Ceci brought together the colors, the quote – all the organic elements we wanted – in a cohesive manner that delighted us and our guests. The attention to detail helped make our guests realize how happy we were to share the wedding weekend with them. This was very important to us; since none of the guests lived in Naples, we wanted to convey how happy we were that they would be making the trip.
Being a Ceci bride? It's having someone turn a vision in your head into a remarkable, personal expression of the love between you and your beloved that you'll treasure forever.
View Julie's wedding invitations and wedding photos in Our Muse