EXQUISITELY OLD WORLD
It's always a treat when I get to design an invitation for a bride who also happens to be a close personal friend. That was certainly the case with ultra-talented wedding photographer Corbin Gurkin. You may remember her sweet, bespoke style from this issue of CeciStyle, which showcases the complete brand we created for her photography business. Corbin is very special to me, so I'm thrilled to take you along with me this week on a journey to the Irish countryside to see her and Thatcher's magical affair.
The theme of the weekend was decidedly old world, and I loved spotting all the historical touches – from crumbling stone ruins to children dancing around a maypole. It was like stepping back in time. Luckily for everyone, the day was captured in all its charm by Elizabeth Messina in the photos below. (Be sure not to miss the amazing video produced by Curtis Heyne of Living Cinema.)
Corbin is such a thoughtful and artistic person, I knew designing her invites would be a major thrill. Check out Ceci Creative Tips for a few of the standout details that made it so special, including one very sweet little elephant! Plus, I'm showing you the elegant watercolor painting that I created, which was printed on the back of each invitation – a wonderful, personal touch.
We weren't the only ones who thought the wedding was spectacular: Martha Stewart Weddings also highlighted Corbin's magical day in its special Real Weddings issue. Needless to say, the creative talent for this event was top-notch, so I wanted to take a minute in Expert Style Tips to introduce you to some of the key players. I've asked them to share their favorite detail of Corbin and Thatcher's wedding – just wait till you see them.
May you fall in love with this special affair as much as we all did. Congratulations, Corbin and Thatcher!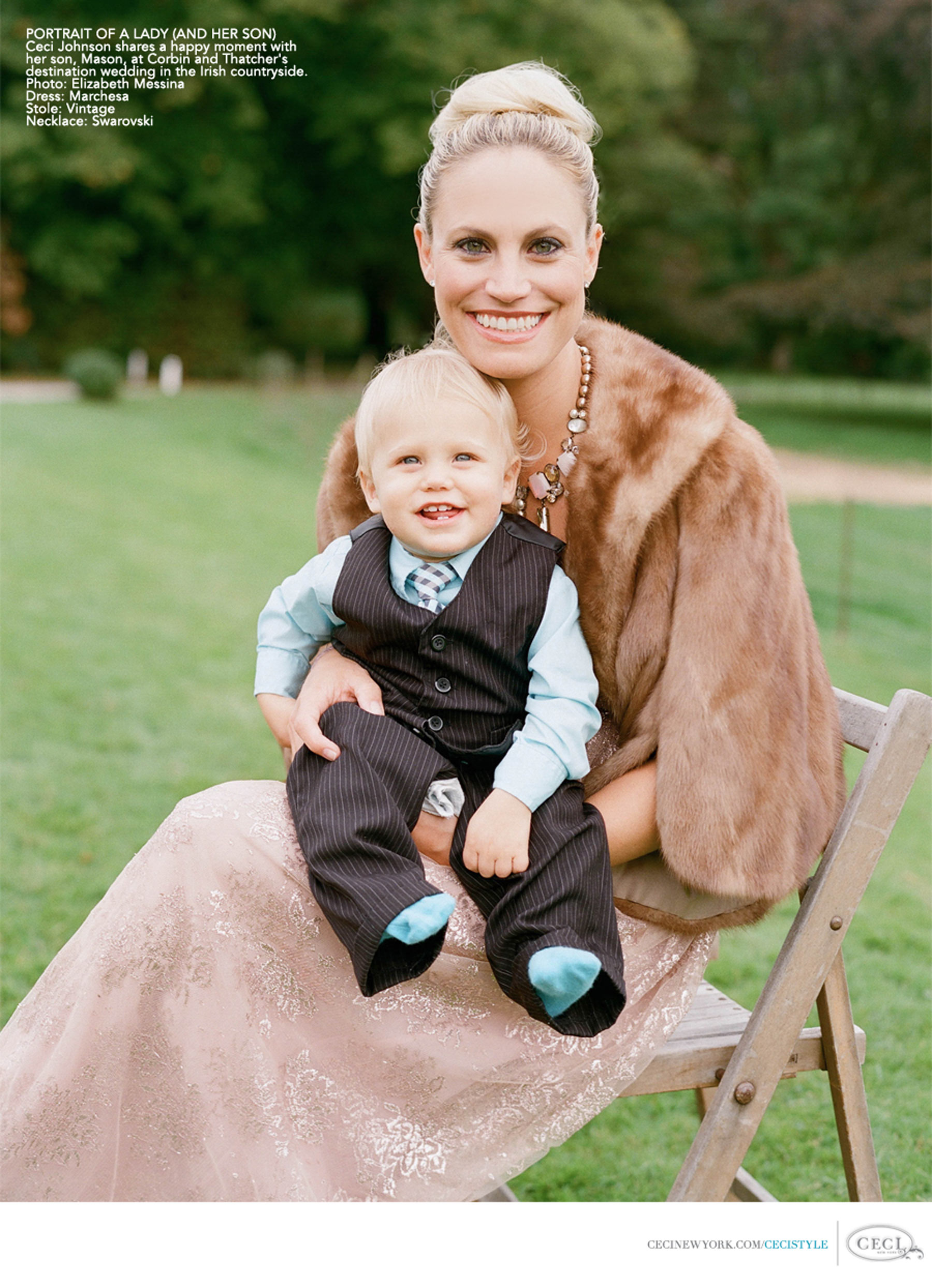 Photography by Elizabeth Messina.
THE CREATIVE TEAM: Photography: Elizabeth Messina Dress: Marchesa Stole: Vintage Necklace: Swarovski