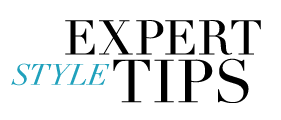 In this issue I focus on Vegas' glamorous side. But you don't need Vegas as an excuse to ramp up your style – do it no matter where you are in the world! I suggest you start with Leah C.'s stunning couture millinery creations. Go for one of her wild hats for your next cocktail or engagement party or try something over-the-top for this year's holiday get-together. Whether it's your wedding (you can see what she created for my wedding) or other special occasion, Leah C. will have you looking like a million bucks – effortlessly. She generously shares her expert style tips with us below.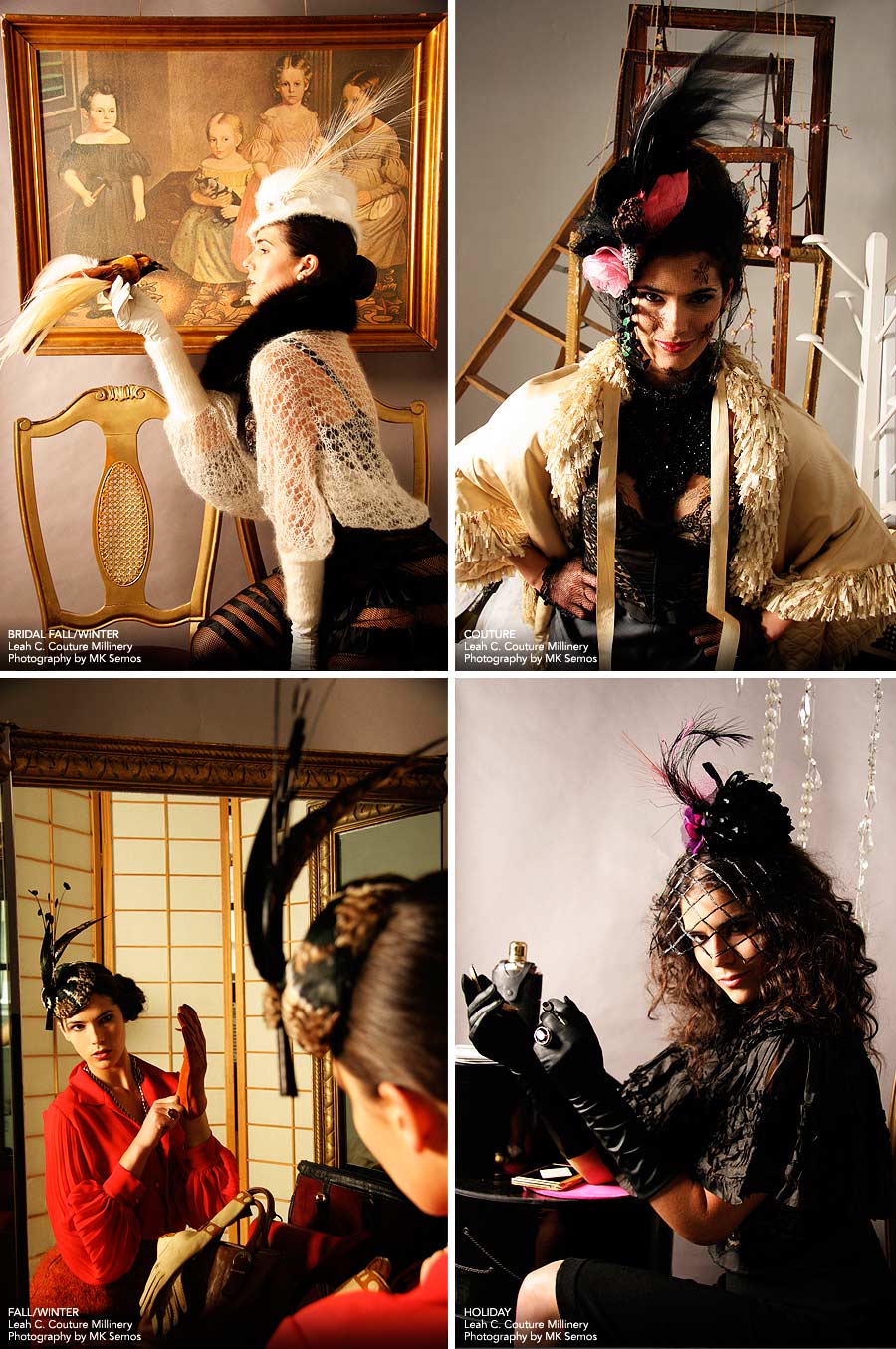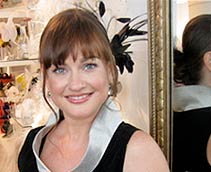 LEAH C. COUTURE MILLINERY
Designer Leah Chalfen combines her unique brand of sophisticated, American whimsy with classic millinery techniques. Stylish women from across the globe covet her timeless designs. Never one to conform to trends, Leah's designs are favored by the fashion-industry's top stylists and editors because they transcend era, event and outfit so completely. Leah's headpieces have accompanied high fashion and bridal-fashion editorials shot by top fashion photography legends, including Irving Penn and Karl Lagerfeld.
"Leah C. is a woman with style, grace and an eye for beauty. She simply "gets it." You can have one meeting in her wonderland-of-fun atelier and your work is done. She does all the rest, creating an incredible, one-of-a-kind headpiece just for you, your event and style. Divine!" – CECI JOHNSON
Expert style tips from Leah C.:
Strike a balance: A headpiece should complement your neckline, whether it's round, asymmetrical, straight or sweetheart. Headwear should also balance the skirt: If you're wearing a huge ball gown, don't wimp out with a small flower in your hair.

Let the feathers fly: Consider feathered boutonnieres for the groomsmen and feathered headpieces for the girls.

Use color: Color is emotional and provocative, don't be afraid to use it in your headwear! Most of us have colors that evoke special times in our lives or that lift your spirit, this is a great time to personalize your fashion message on the magic day.

Multiple looks: I recommend making the most of the different segments of your day or evening wedding and having 2 looks. The ceremony carries a more serious tone and the reception a lighter, party atmosphere so your head wear choices can reflect these differences. Change from a beautiful veil into a fun hair ornament with maybe a touch of veiling for during the reception without sacrificing your head to toe complete look.

Use the experts: Get your veil made by a milliner, not a dress maker! Each field has its own expertise – be sure to check out the company's reputation, testimonials and the back round of the brand to invest in yourself wisely.

Go for it: So many times I hear "if I could do it over again, I would have gone with more dramatic head wear!"

Visual focus: Remember that the visual focal point is the Bride's face, her smile and the look in her eyes. What ever is closest to this view, a.k.a. your headwear, adds to this vision. Don't underestimate the importance of what is in your hair and closest to your face.

Choice of accessories: Your choice of hair accessory and veil should reflect your personality, not any current trend. I feel your choice should be about your vision of yourself and the feeling of the dress, i.e. soft & romantic or clean & tailored.
Leah's collections are available to view by appointment in her Manhattan studio. To schedule an appointment, please call 1.212.947.3505.