Orchid
Orchid Cascade Reply Card
Starts at $4.20 per piece*
*Pricing varies based on quantity, paper and print techniques.
Customize
Personalize your design to make it uniquely yours! This is just a starting point – your dedicated Ceci Stylist will work closely with you during the proofing process to guarantee you love it. Your subtotal will update below.
have questions
Your dedicated Ceci Stylist is here to assist you. Contact Us
SIZE: 4.125" x 6"
PAPER: 100% Cotton Paper
PRINTING TECHNIQUE: Customizable as you wish
COLORS: Customizable as you wish
ORIGIN: Made in the USA
Once you place your order, Ceci Stylist will reach out within 1-2 business days to help refine your selections, customize wording + etiquette, review proofs, paper + ink samples, and answer any questions you may have. Enjoy unlimited revisions to ensure your chosen design is just right.
Upon approval of final art, orders typically arrive within 4-8 weeks. Rush options available, please contact us.
What should be in my suite?
Wondering what to include in a wedding invitation suite? You're not alone. We've compiled a helpful guide outlining exactly what to send with your wedding invitations. 
The Four Essentials:
1. Wedding Invitations
The Invite is your star - the main element which determines the entire look. You can either select matching designs to complete your suite or mix and match to make your own style. The possibilities are endless!
2. Mailer Envelope
This is the outermost envelope that holds all the pieces of your suite. It's a must have in order to safely mail your invitations.
3. Reply Card
The most formal way of gathering your guest headcount and any other event preferences (meal choices, for example). Traditionally, these are paired with a coordinating envelope and request for reply one month before the event date. In countries without a strong mail system, RSVP cards may be used for requesting replies via email in lieu of mailing them back to the host. 
4. Reply Envelope
Etiquette dictates that you include a coordinating reply envelope pre-addressed to the host so guests can easily mail back their responses. Traditionally, the envelopes have postage stamps applied by the host from the country of origin. International guests are traditionally responsible for their own postage. Envelopes are not required if you are capturing replies via email.
Nice To Haves:
1. Inner Envelopes
Back in the olden days, inner envelopes were used as a way to keep the mail clean. Typically, the horseman would discard the soiled outer envelope before delivering to guests. Nowadays, the inner envelopes are used as a nod to this tradition and not necessarily required. Many modern day mindsets forgo the double envelope approach for environmental reasons.
2. Envelope Liners
Whether you prefer a pretty paper or a graphic statement, envelope liners are a great way to make a luxurious impression. Ceci Tip: Pair a bold graphic envelope liner with a classic invitation for an update on the traditional look. 
3. Custom Stamps
Yes, it's true! You can have USPS postage stamps that match your Ceci designs. Select from our many styles and your Ceci Stylist will assist you with weighing your invitations so you know the correct denomination to order.
4. Reception Card
Modern day etiquette allows you to put both your ceremony and reception information together on the main invitation card. However, if you're more of a traditionalist, a separate reception card is typically preferred.
5. Information Card
Typically this card is for any additional information your guests may need. For example, it can be used for a schedule of events, accommodations, travel details, website url, attire recommendations, etc. If you require an information card, please request one with your Ceci Stylist. 
6. Brunch Card
If you're having a brunch, consider sending this card with your main invitation. Not only does it give your guests a complete idea of the weekend plans, but it saves you money on additional postage, calligraphy and mailing! One less thing to worry about. 
How To Order
1. SELECT
Browse designs and purchase on your own, or contact us for help ordering. 
2. SUBMIT
Email your wording + details after purchase. Don't worry, no need to have them when ordering! 
3. DISCUSS
Schedule a call (optional) with your Ceci Stylist. We will guide you on wording etiquette and design details. 
4. DESIGN REVIEW
Work with your Ceci Stylist to refine your design so it's just the way you want it. Enjoy unlimited revisions. 
5. FINALIZE
Your Ceci Stylist will email the final proof to review and approve before it goes to print. 
6. APPROVE & PRINT
Once you approve, your project goes to print and you enjoy the compliments! 
Printing Technique Options
The options shown below are the printing techniques we offer at Ceci New York. You will receive paper and ink samples when you initially place your order so you can select the exact options you prefer.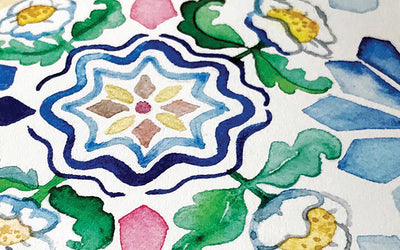 flat color
Flat color printing, which is also known as digital printing, is defined by sending an image directly to the printer via digital files, such as PDFs and other flattened file formats generated by software programs such as Illustrator and InDesign. Flat color printing eliminates the need for and use of printing plates, which can save time and helps to lower overall print costs. Ceci New York will simulate any metallic colors when printed with flat color printing.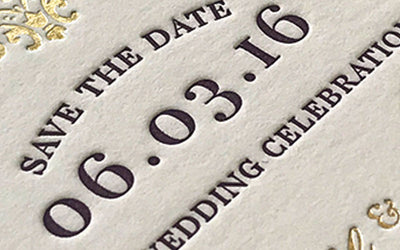 letterpress
Originally used for book printing dating back to the 15th century, this method, where ink is pressed into the paper, has seen a recent rise in popularity. Our special Ceci New York printing process produces an ultra deep indentation and crisp print that is regarded as the finest in the industry.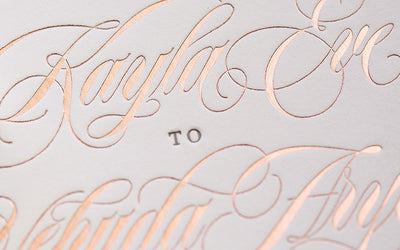 foil
Foils, which are typically metallic, are pressed into paper stock via heated copper plates. Foil stamping adds shiny accents to a design, but can also be used to add matte colors, like white, to darker, colored papers. This technique is wildly popular adding the ultimate luxurious touch to your designs. Foil stamping is ideal if you're planning to print your entire design on black or darker colored paper stocks. 
Paper Thickness Options
The options shown below are the luxurious paper thicknesses we offer at Ceci New York for all invitations and cards. Paper and ink samples are sent with every order for a true experience of what you will receive for your final printed items. 

2ply Signature (as shown)
2Ply Ceci Signature Paper is handmade in America and 2x as thick as the industry standard. This luxurious stock has been offered by Ceci New York since 2004 and comes in an off-white, ecru and black hue with a creamy cotton texture.
2Ply Ceci Signature delivers unmatched depth of impression, vibrancy of color, crispness of foil stamping and offers an unrivaled luxurious feel. Our 100% upcycled cotton paper exceeds Library of Congress and Museum Board standards for quality.

4ply Luxe
Our 4ply Luxe Ceci Signature Paper is made with the same unparalleled quality and luxuriously creamy texture as our two ply Ceci Signature Paper.  Offered in an off-white, ecru and black.  Handmade in America this exclusive blend has become the cotton board of choice by prestigious museums & galleries worldwide. 4Ply Luxe delivers unmatched depth of impression, vibrancy of color, crispness of foil stamping and offers an unrivaled luxurious feel. An upgrade worthy of a once-in-a-lifetime event. 100% cotton and 4ply thickness.