Design Details
Yes, we are here to help! Please email us at hello@cecinewyork.com or call to speak directly to one of our experts at +1.212.989.0695 Monday – Friday, 9:00 am – 6:00 pm EST.
A portion of every sale is donated to The Birthday Party Project which brings joy to homeless children through the magic of birthdays. Read more here.
We have two main levels of designs available: Collection and Couture. All our Collection "ready to order" designs are priced in the store section of our site. Couture designs are created specifically to your dreams and desires, and pricing is based on those details accordingly. Contact us to discuss your dream design suite and to get a quote! Please call us at +1. 212.989.0695 Monday – Friday, 9:00 am – 6:00 pm EST or email us at hello@cecinewyork.com and one of our creative services specialists will get in touch with you within 24 hours to discuss!
Yes! We offer sample packs with our exclusive papers, inks and printing techniques so you can touch, feel and see the Ceci difference. You can order them on any of the invitation product pages. You can also call +1.212.989.0695 Monday – Friday, 9:00am – 6:00pm EST or email us at hello@cecinewyork.com to discuss what you are looking for specifically.
Yes! We have designed in dozens of languages and with clients in over 40 countries around the world. Please contact us to get started or with any questions. You may email hello@cecinewyork.com or call directly at +1.212.989.0695 Monday – Friday, 9:00am – 6:00pm EST.
Yes, we do! For more information about our digital and hand calligraphy services, please contact us at hello@cecinewyork.com or call +1.212.989.0695 Monday – Friday 9:00am – 6:00pm EST.
We are all about the details and love the addition of a custom-designed, matching stamp. We create stamp designs based on your chosen designs and will always recommend our pick. You may also visit our current selection available for order directly on our site.
Yes, we require all designs to have a proof approved by you before they go to print. Rest assured we will make sure every detail is perfect and you will sign off before it goes to print!
Our award-winning couture design service is what set Ceci New York apart when we launched in 2004. We continue to offer that personalized, one-of-a-kind experience today. We love to work with clients all over the world, so please reach out and say hello! Our expert client services specialists are happy to help you learn more about how you can commission the Ceci Design Team or assist you in scheduling a consultation. Please contact us at hello@cecinewyork.com or call +1.212.989.0695 Monday – Friday 9:00 am – 6:00 pm EST.
Of course! We believe there's always another idea or solution – please allow us to help you. We can be reached via phone at +1.212.989.0695 Monday – Friday, 9:00 am – 6:00 pm EST. You may also email hello@cecinewyork.com and one of our client service specialists will be in touch with you within 24 hours. We also work on WhatsApp for many of our International clients, so please email us at hello@cecinewyork.com to set up a WhatsApp conversation, phone or video call.
Ordering & Service Logistics
We aim to be as accommodating as possible, therefore there is no minimum order. We are happy to estimate your project or idea at any quantity you wish – be it 5, 500, or 5,000. We accommodate any amount you would like to order. To learn more, please email hello@cecinewyork.com or call +1.212.989.0695 Monday – Friday 9:00 am – 6:00 pm EST.
Once your order is placed, we immediately begin processing it. One of our client service experts will contact you and walk you through the process and answer any questions you may have. Our design team will create a proof for you to see and make sure all the details are correct and exactly as you wish! If you have any changes we offer free unlimited rounds of revisions to make sure your design is just right! Once you sign off on the proof we go to print! After your order is printed, it passes through our quality control inspection process to ensure it's up to the finest standards in the industry. Once we inspect every element in your suite you will receive a shipping confirmation email with complete order details and tracking number(s).
You may order directly online or with one of our client service specialists. Our online Collection products allow you to select from numerous trends and themes and then choose your paper, font, color and details of your design. We offer Save the dates, invites, reply cards and numerous accessories and day of items all that you can customize online and get a quote immediately! You may also contact one of our client service experts who can assist you in selecting designs, wording, colors etc. We're happy to help, so please call or email us to get started at hello@cecinewyork.com or +1.212.989.0695 Monday – Friday 9:00 am – 6:00 pm EST.
Printing and production time for custom orders is dependent on the specific design, printing technique(s) used, and the number of items ordered. A design with letterpress printing and/or foil stamping takes approximately four weeks to produce, while flat printing is ready to ship in approximately three weeks. The addition of laser cutting or calligraphy will add approximately 2-3 more weeks to the printing of your design. We recommend ordering your invitations 6-8 weeks prior to your preferred mailing date to accommodate the printing, production and quality control process and delivery to you.
The size, weight, rigidity of the item or package being mailed and the to - from address determine postage cost. We recommend that once you have received your order, have one complete suite weighed at the shipping location from where you will be sending. Then, we always recommend adding a bit of extra postage on to be safe (better safe than sorry especially when it comes to the USPS!).
Rush production for custom design projects is available for an extra charge and typically reduces printing time by half. Rush shipping options are also available. Upon checkout, please select the option best suited for your timeline.
Depending on the item, we recommend ordering 15-20 extras (especially with save-the-dates and invitation suites). Don't forget, you should have a few for you and your family; extras in case any are returned in the mail and to be prepared should your guest list grow (as you can imagine, it happens often!). Please remember, you do not need to order a save-the-date and/or invitation for every person invited to your event, as they're sent to couples, families or households. Typically, one invitation invites two people. Our general rule is to take your final guest list count, divide that number in half, then add 25. Therefore, if you have 150 people total, it looks like this: 150 divided by 2 = 75 + 25 = 100 invitations. Lastly, if you are managing your own guest addressing, please be sure to order an extra 25 mailer envelopes to ensure you are covered for mistakes, set-up, and extras.
Due the custom nature of personalized orders, they are unable to be returned. For non-custom items such as boxed stationery, you may return your item(s) within 30 days by following the return instructions for an exchange or full refund to your original form of payment.
Yes! We love our global clientele and are happy to manage the shipping of your designs from New York City to the destination of your choice. Shipping rates and schedules are determined by weight of the complete package, speed of delivery required and the delivery location.
Yes, your name, email address, billing and delivery information (when applicable) is securely stored in our database with SSL 128-bit encryption, the industry standard encryption method. This information is available for future orders when logging in so that you do not have to re-enter it when you come back and shop with us.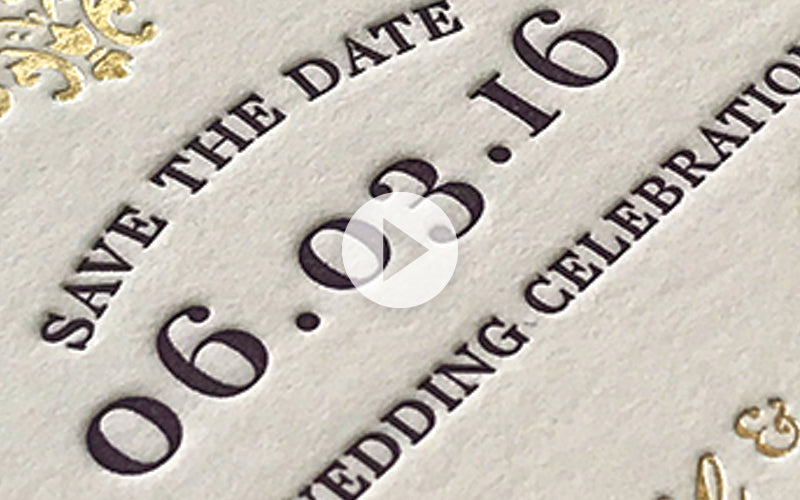 LETTERPRESS
Our most popular printing technique is letterpress, where ink is pressed into the paper with specially manufactured printing plates. Originally used for book printing starting in the 15th century, this method has seen a tremendous rise in popularity. Due to the hand nature of this artisanal printing process, minor variations in color and coverage should be expected.

Click the link below to view letterpress printing in action!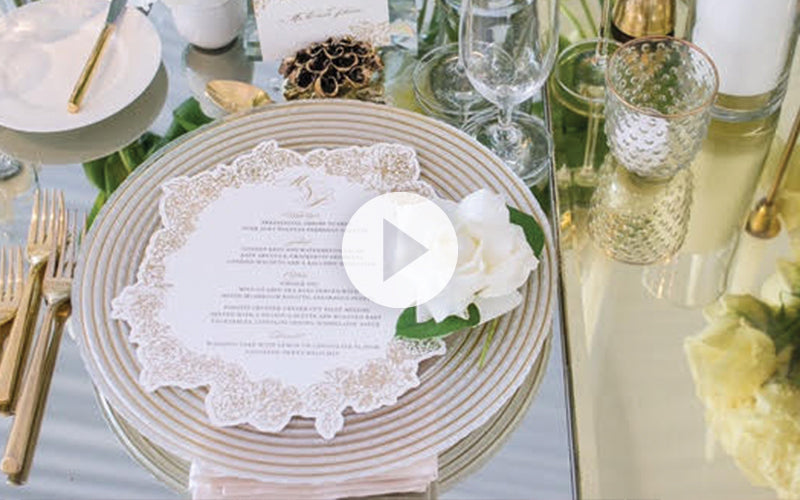 DIE-CUTTING
Die-cutting is the cutting by machine of paper and other materials into shapes with sharp steel knives. We love to create unique, custom die shapes for our invitations, business cards, envelopes, and anything really!

Click the link below to view how die-cutting works!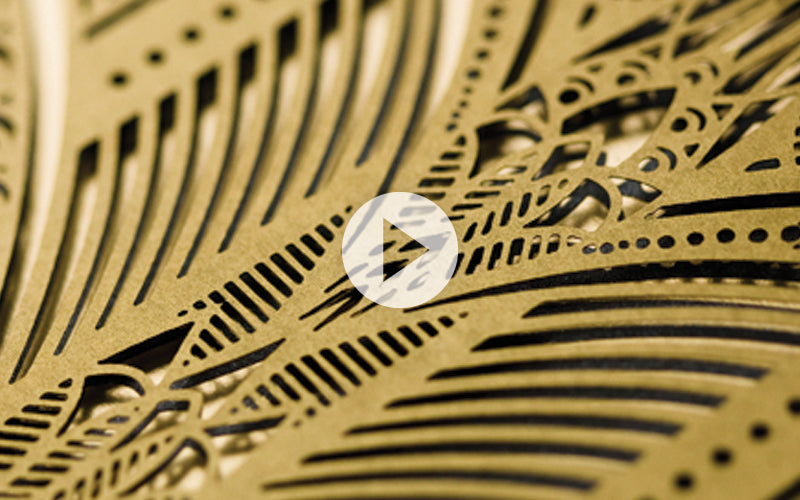 LASER CUTTING
The laser-cutting technology uses a high-powered laser directed through optics to cut materials like paper, wood, metal and acrylic. This technique adds intricately cut details to an invitation, sleeve or bellyband, for example.

Click the link below to view how laser cutting works!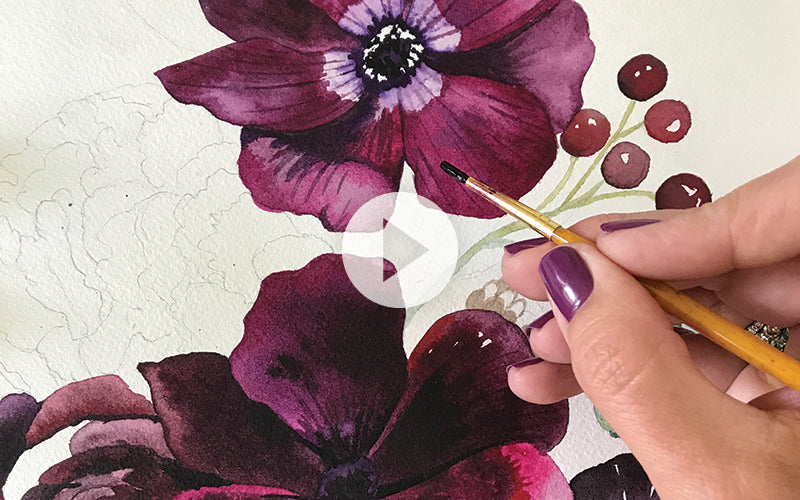 WATERCOLOR
Formally trained in fine arts, Ceci Johnson's commissioned watercolors strike the perfect balance between sophistication and original artistry.

Click the link below to view Ceci Johnson painting our original Celine watercolor painting!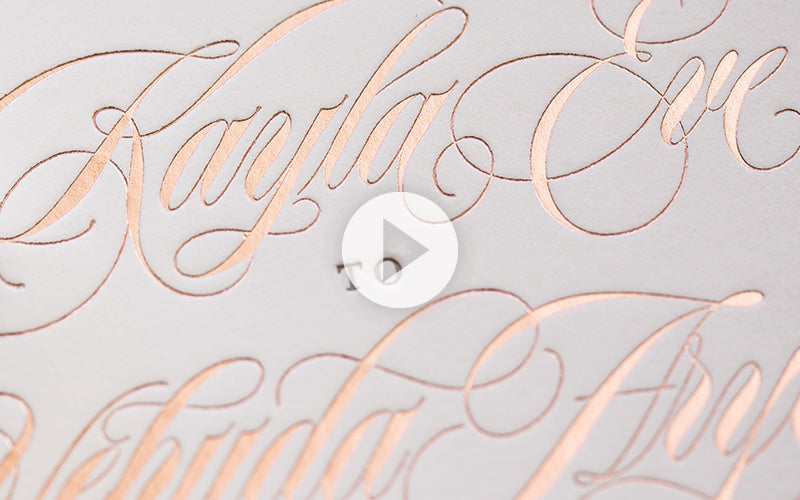 FOIL STAMPING
Foils, which are typically metallic but also available in matte, glossy and pearlized finishes, are pressed into paper stock via heated copper plates. Foil stamping adds shiny accents to a design, but can also be used to add matte colors, like white, to darker, colored papers. This technique is wildly popular adding the ultimate luxurious touch to your designs.

Click the link below to view foil stamping in action!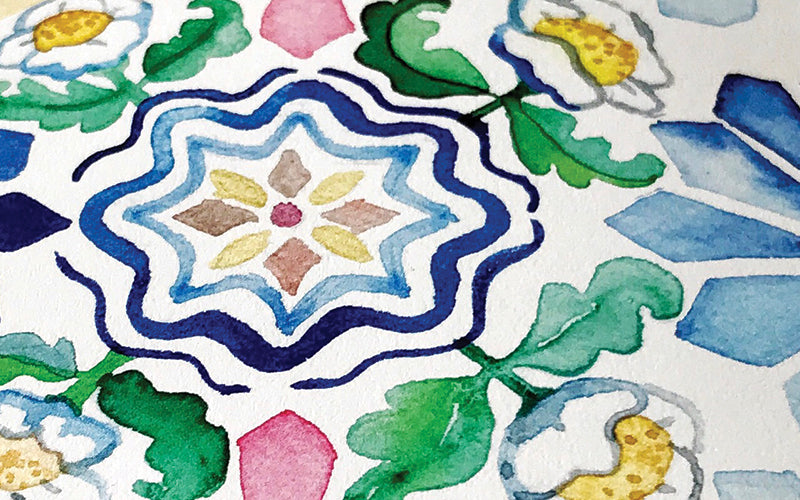 OFFSET OR FLAT PRINTING
Flat printing refers to methods of printing from a digital-based image directly to paper stock or when an inked image is transferred from a plate to a rubber blanket, then to the printing surface. While development of the offset press began in the late 1800s, it wasn't until the early 1900s that images were printed on paper. Items may be digitally printed or offset printed depending on the item.